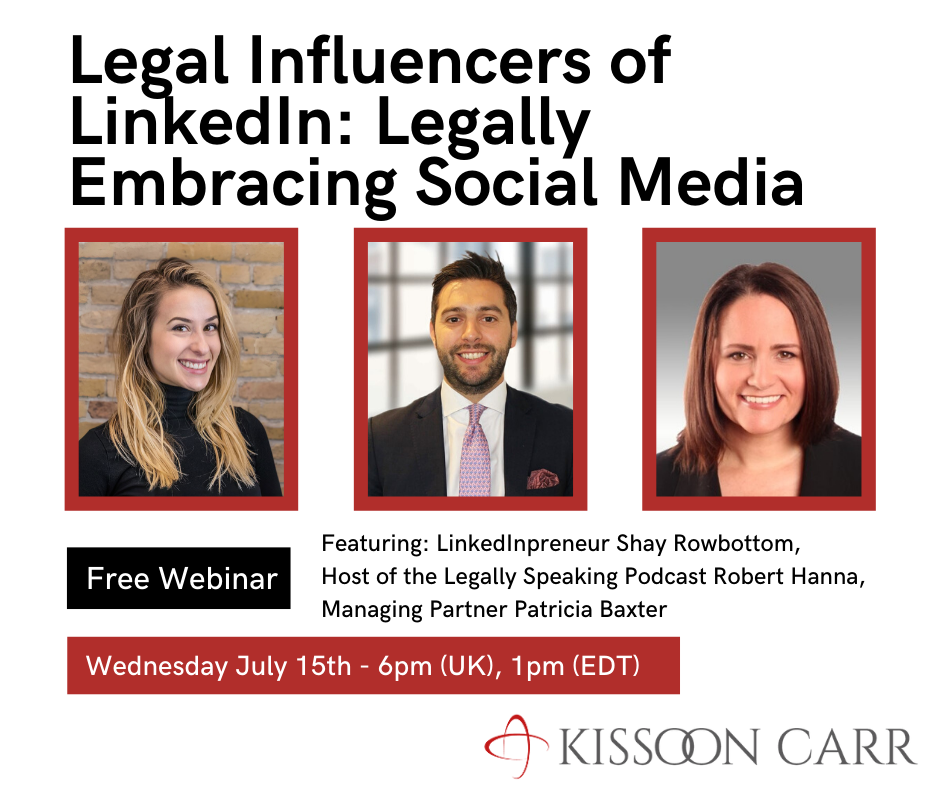 Written by KC Ambassador Louisa Woods.
Kissoon Carr will be holding a webinar event on 15th July at 6pm (UK) /1pm (EDT) on embracing social media within the legal industry. This will involve content on how lawyers can specifically use videos to boost business and why personal branding is so important, particularly in the current climate.
How to access the webinar?
The webinar can be accessed through signing up using this link. The registration simply involves inputting your name and email to secure your spot for the webinar.
Background Information on our key speakers – Robert Hanna, Shay Rowbottom and Patricia Baxter
This event will be hosted by Robert Hanna who is the host of the Legally Speaking Podcast powered by Kissoon Carr, as well as the Co-Founder and Managing Director of Kissoon Carr. Robert is one of the most high-profile legal recruiters in London and is relentlessly focussed, always wanting to add value and develop long lasting relationships. He also has an impressive number of specialisms including Recruitment, Contingent and Retained Search and over a decade over global experience.
The panellists include LinkedInpreneur, Shay Rowbottom who was a recent guest on the Legally Speaking Podcast. Shay consults individuals and organisations on how to generate revenue through LinkedIn and connect with their target market. She also encourages authenticity and personal growth. She has an impressive number of followers on LinkedIn and openly talks about how her childhood abuse has enabled her creativity and current successes.
Panellist guest, Patricia Baxter is Managing Partner at Morgan & Akins PLLC in Pennsylvania and New Jersey. She handles general litigation cases with a particular focus on Premises Liability, Product Liability and Aviation. Patricia has an impressive outlook on handling her clients. She specialises in early and effective dispute resolution to reduce the cost of ongoing defence cases which was inspired by her upbringing, making her cost conscious at a young age. This is achieved through collaborating with insurance companies and self insured businesses.
What value can the webinar provide you?
This webinar is bound to provide lawyers, associates, trainees and students with value through inspirational speakers providing invaluable insight on how to embrace social media within the legal industry. The content provided will be based on how lawyers can specifically use video to boost their business and bring in more revenue for firms through attracting new clients and talent. There is currently little competition on LinkedIn for video content so establishing your personal brand now will enable a head-start for the future. It can provide law firms with the opportunity to establish themselves online through enhancing personal branding and create a clearer, more authentic platform for engagement.
This webinar will enable you to utilise and understand the power of LinkedIn and how career goals can be met through enhancing and personalising your content. By embracing social media within the legal industry, you can show that you are easily adaptable to changes. It will enable you to add value to both your professional and personal growth.