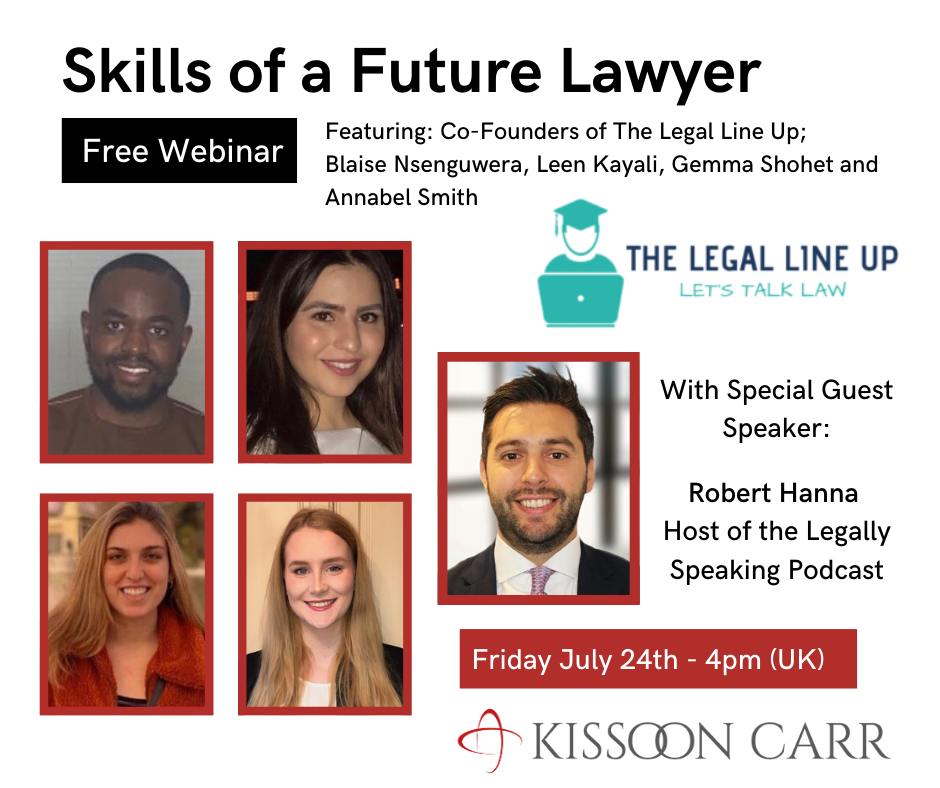 Kissoon Carr will be holding a webinar event on 24th July at 4pm (UK) on the skills needed by future lawyers and how to develop those skills.
How to access the webinar?
The webinar can be accessed through signing up using this link. The registration simply involves inputting your name and email to secure your spot for the webinar.
Background Information on the host, guest speaker and panellists –  Gemma Shohet, Robert Hanna, Leen Kayali, Annabel Smith and Blaise Nsenguwera
This webinar will be hosted by Gemma Shohet. Gemma is a final year Law with Hispanic Law student at Leeds University. This year, Gemma secured vacation schemes at magic circle law firms Clifford Chance and Linklaters, as well as global law firm Norton Rose Fulbright. At university, Gemma has been heavily involved in Leeds University's Law Society, elected as Female First Year Representative and later as General Secretary. Gemma spent the summer of 2018 working in California and recently completed a study abroad in Madrid during which she achieved fluency in Spanish. In addition to interning at financial services firm Rothschild & Co., Gemma has undertaken placements at magic and silver circle law firms, including Freshfields Bruckhaus Deringer, Herbert Smith Freehills, and Linklaters. These experiences solidified her interest in pursuing a career as a commercial solicitor at a large, international firm. During lockdown, Gemma co-founded The Legal Line Up and is mentoring several aspiring commercial lawyers.
The webinar will also feature Robert Hanna as a guest speaker. Rob is the host of the Legally Speaking Podcast powered by Kissoon Carr, as well as the Co-Founder and Managing Director of Kissoon Carr. Robert is one of the most high-profile legal recruiters in London and is relentlessly focussed, always wanting to add value and develop long-lasting relationships. He also has an impressive number of specialisms including Recruitment, Contingent and Retained Search and over a decade over global experience.
Annabel Smith is a future Trainee at Allen & Overy and Co-Founder of The Legal Line Up.
Leen Kayali is a future Trainee at Clifford Chance and Co-Founder of The Legal Line Up.
Blaise Nsenguwera is a future Trainee at Freshfields Bruckhaus Deringer and Co-Founder of The Legal Line Up.
What value can the webinar provide future lawyers?
The legal industry is beginning to change rapidly in light of COVID-19 as well as various economic and market conditions. Future lawyers need to adapt to this change and have the necessary skills to help them succeed in this competitive market. This webinar will evaluate which skills future lawyers need to have and how they can develop those skills.